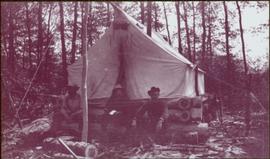 Taku River Survey - Three Men at Main Camp
Photograph depicts three men sitting in front of tent structure with log base, trees in background. Believed to be main campsite area (see item 2006.20.3.59).
Image is one of 65 photos documenting a survey of the Canada-Alaska Boundary, Taku River area, May 23 to Oct. 15, 1906. This particular photo is one of 9 found in original enclosure with the following handwritten annotation: "Pictures of different members of 'our' party." See also items 2006.20.3.57 - 2006.20.3.65.