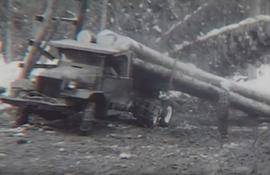 Cornel Neronovitch Logging and Sawmills film
This film was created by Cornel Neronovitch who owned two sawmills in the Prince George area in the 1950s: the Prince George Sawmill at Peden Hill and the Cornel Mill at Dewey.
Film footage shows Neronovitch's Cornel Mill at Dewey with early logging and sawmilling practices in Northern BC, as well as interior shots of what are presumed to be bunkhouses. Also shows a short clip of family film footage.