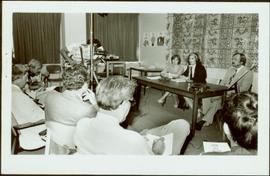 CUSO Mission, North-eastern Thailand - Iona Campagnolo speaks at news conference in Ottawa
2009.6.1.443
Item
10 July 1980
Campagnolo sits behind table between unidentified woman and man. Reporters sit in foreground.
Handwritten annotation on verso reads: "Ottawa News Conference, July 10/80, CUSO - Kab Chesang".
Photograph is one of 18 images depicting Campagnolo's work with Canadian University Service Overseas (CUSO) in collaboration with Foreign Affairs Minister Flora MacDonald on the facilitation and development of a largely Canadian financed refugee camp near Nakorn Rachisima (formerly Korat), to help the refugees coming over the border from Laos and Cambodia. See also items 2009.6.1.440 - 2009.6.1.457.