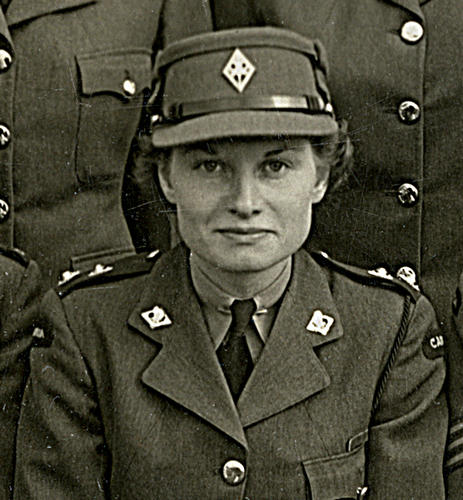 Identity area
Parallel form(s) of name
Bertha Schenk
Lieutenant Bertha Schenk
Standardized form(s) of name according to other rules
Identifiers for corporate bodies
Description area
Dates of existence
4 June 1919 - 19 April 2000
History
Bertha Wood was born Bertha Schenk on June 4th 1919 to parents William and Evelyn Schenk. Growing up, she was the 2nd eldest of 10 children.
In 1942, she enlisted in the Canadian Women's Army Corps (CWAC) and served until her discharge on September 27th, 1945. She was promoted to the rank of Lieutenant and received two medals for her time in service. During her service, she drove injured soldiers in an ambulance in France.
After the war, Bertha joined the Shaw Business School in Toronto, where she was educated in secretarial work. After completing her education, Bertha married James Wood on June 1st, 1951. Bertha worked at several locations in South River, ON and Toronto as a secretary, including the Robert Duncan Printing Company and Williamson, Shiach, Sales, Gibson & Middleton Chartered Accountants. In 1977, James and Bertha opened up the Lucky Dollar Food Market in South River, Ontario, which has since closed. James and Bertha had no children; they lived together until James' death in 1996. After the death of her husband, Bertha moved to Sechelt, B.C. where she lived with the Hughes family until her death on April 19th, 2000 at the age of 80.
Functions, occupations and activities
Canadian Women's Army Corps, B Company, Military District No. 2 Central Ontario (Toronto)
Mandates/sources of authority
Internal structures/genealogy
Control area
Authority record identifier
Rules and/or conventions used
Dates of creation, revision and deletion
Created on 2 July 2020 by KS.