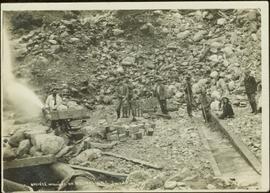 Société Minière de BC, Atlin BC
Group of five miners stand in mining area on left. Woman, man, and young girl sit and stand on far right in more formal attire. Mining tools and equipment throughout.
Printed annotation on recto of photograph: "Société Minière de B.C., Atlin B.C. July 28th, 1901, A.C. Hirschfeld, No. 707".