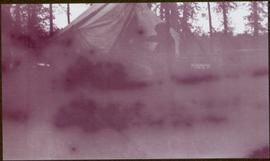 Taku River Survey - Man at Tent
Photograph depicts silhouette of unknown man standing in front of tent, trees in background. Poor image quality.
Image is one of 65 photos documenting a survey of the Canada-Alaska Boundary, Taku River area, May 23 to Oct. 15, 1906.
This particular photo is one of 13 found in original enclosure with the following handwritten annotation: "SOME OTHERS." See also items 2006.20.3.22 - 2006.20.3.34.