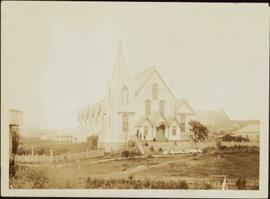 Children gathered at Metlakatla Church
Several unidentified individuals can be seen on front steps of church and a group of small children in white stand in line below steps. Other community buildings are visible in background, white fence crosses foreground. Photograph depicts the first church built in Metlakatla, which was burned in a fire in 1901, and replaced in 1903.
Handwritten annotation on verso reads: "Old church at Metlakatla Before fire. Built by Fr. Duncan & the village people".