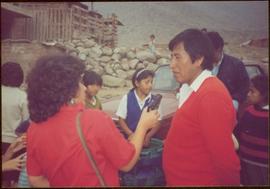 W.H.O. Trip, Ayacucho, Peru - Unidentified woman holding tape recorder to an unidentified man as children stand in background
Rock pile, unknown building, and hills can be seen in background.
Photograph is one of 11 images taken during a World Health Organization (WHO) trip, Human Rights of Women and Children, Peru, 1990. Possibly affiliated with World Council of Churches, International Ecumenical Delegation to Lima, Peru, 14-25 October 1990. See also items 2009.6.1.505 - 2009.6.1.515.