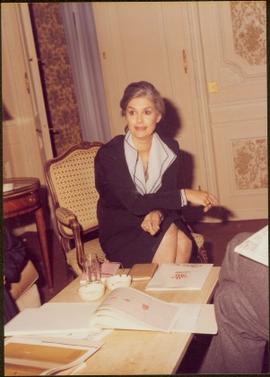 Paris Press Conference - Iona Campagnolo talking from chair at coffee table covered with documents
2009.6.1.417
Stuk
[1980 or 1981]
Photograph taken at the Intercontinental Hotel in Paris, France.
Handwritten annotation on verso reads: "Summer 81 Paris, Putting the case for Calgary 1988 Olympic Games at Intercontinental Hotel, Conference du Presse (awake for 36 hours here)".
Image is one of 15 photographs accompanied by notation on piece of paper reading: "1980 Paris, Bid for 1988 Calgary Olympics with Roger Jackson," and "Reportage minister du Canada, 14.5.81, Reportage Pele der 14.5.81" See also items 2009.6.1.406 - 2009.6.1.420.