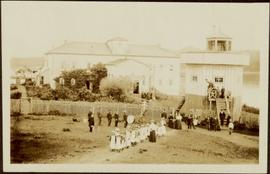 Community event at mission house and jail, Metlakatla, BC
Photograph depicts a group of children dressed in white walking in a line, and adults and other children watching from behind. Group of six man stand in line on left, one holding a flag, another a drum. Jail tower and large building stand behind fence in background.
Handwritten annotation on verso reads: "Old Mission House & jail at Metlakatla Before the fire."