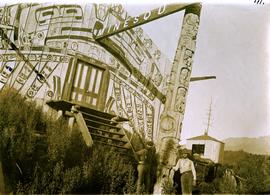 Chief's lodge and totem, Nass River, BC
Photograph depicts two men standing at base of totem pole in front of large elaborate lodge building with post reading "MINESQU". Smaller structure stands in background (elevated cache?).
Handwritten annotation on verso reads: "Chapter XXIV. No. 3. A chief's lodge and totem Nass River."