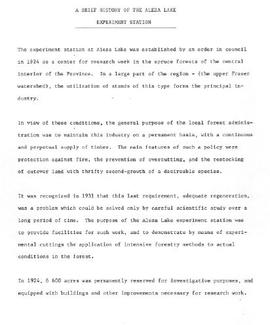 Aleza Lake Experiment Station Histories and Background
2006.18.1.01
Dossiê
1990-1996
File consists of:
*"A Summary of Historical Orders-in-Council affecting the Aleza Lake Forest Reserve", Mike Jull, 18 Dec. 1996
*Photocopied memorandum from F.S. McKinnon regarding "Transfer of Aleza Lake to D.F. Prince George", 9 Sept. 1963
*Photocopied 1928 article by P.M. Barr from Forestry Chronicle 4(3) entitled "The Aleza Lake Experiment Station: Its Development and Purpose"
*"A Brief History of the Aleza Lake Experiment Station", [Tim Decie, 1981?]
*Contact information for living relatives of Percy Barr, as of 1990
*Photocopy of 1930 article by Percy Barr entitled "Spruce Reproduction in British Columbia"
*Photocopy of records from BC Archives from a visit by Harry Coates from the file GR 1348 "The Young Mens Forestry Training Program"
*Photocopy of excerpt regarding "Amanita Lake/Diameter Limit Logging"
*Various small-scale maps and charts regarding Aleza Lake
*"Aleza Lake Research Forest Information Session Notes with Mike Jull, Manager of ALRF"