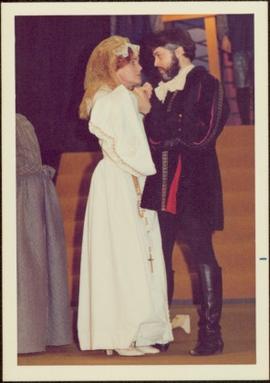 May Diver in Costume as Mary Stuart, with unidentified man
Photograph depicts May Diver dressed as Mary Stuart in white and gold costume dancing with a man wearing black and red costume.
Preceding notation on UNBC Chancellor letterhead: "my theatre days, Ionasphere group. I made personally or designed (for Blue - Rosemary Gilbert) all these costumes, May Diver - Mary Stuart by Friedrich Von Schiller, 1972" (see also items 2009.6.1.12 - 2009.6.1.17).