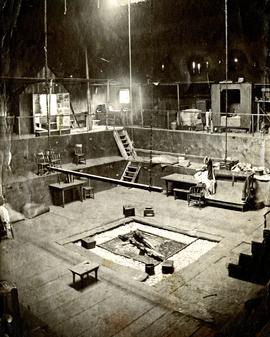 Interior of chief's house in Masset, Queen Charlotte Islands, BC
Handwritten annotation on verso of photograph reads: "W.E. Collison Masset. Interior of Chief [Weah's?] house".
Caption under printed version of photo in W.H. Collison's book 'In the Wake of the War Canoe': "The house is about 40 feet square, forming one large room. The upper cubicles are on a level with the ground, which in front of them is excavated so that the fireplace in the centre is twelve feet below the surface. A ledge, for the use of slaves and dependents, is left half-way down."