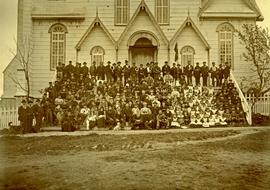 Community gathering at Metlakatla Church during Synod
Large group of women, men, and children pose on front steps of church. Some men standing in back hold brass instruments. Bishop Ridley (with long beard) sits in front centre between W.H. Collison (on right) and his son W.E. Collison. Photograph depicts the first church built in Metlakatla, which was burned in a fire in 1901, and replaced in 1903.
Handwritten annotation below image reads: "A gathering of Missionaries and Indians in front of Metlakahtla Church During Synod"; on verso: "[Ven?] Arch Collison & Mrs Collison".