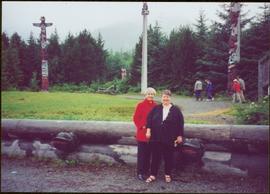 Iona Campagnolo and Margaret Anderson stand in front of totem poles
Photograph believed to have been taken at the Museum of Anthropology in Vancouver, B.C. Unidentified individuals can be seen walking in front of forest in background.
Item is one of nine photographs accompanying a greeting card from Agnes Hauglak, Addie Milewski's sister, reading: "I though you might want these photos. I had to go and send every one their family things. Thank you for being kind to my sister Addie, Agnes M Hauglak"; see also items 2009.6.1.569 - 2009.6.1.577.