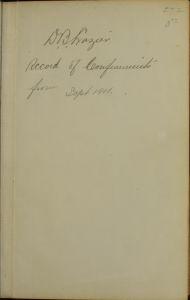 Área de título y declaración de responsabilidad
Título apropiado
Dr. D. B. Lazier Record of Confinements
Título paralelo
Dr. D. B. Lazier Record of Confinements from Sept. 1901
Otra información de título
Título declaración de responsabilidad
Código de referencia
2018.05
Área de edición
Declaración de responsabilidad de edición
Área de detalles específicos de la clase de material
Mención de la escala (cartográfica)
Mención de proyección (cartográfica)
Mención de coordenadas (cartográfica)
Mención de la escala (arquitectónica)
Jurisdicción de emisión y denominación (filatélico)
Área de fechas de creación
Fecha(s)
Sept. 1901 - Jan. 1930

(Criação)

Produtor

Dr. David Brownlee Lazier
Área de descripción física
Área de series editoriales
Título apropiado de las series del editor
Títulos paralelos de serie editorial
Otra información de título de las series editoriales
Declaración de responsabilidad relativa a las series editoriales
Numeración dentro de la serie editorial
Nota en las series editoriales
Área de descripción del archivo
Nombre del productor
(1870 - 1931)
Historia biográfica
Dr. David Brownlee Lazier was a regional doctor in central BC. He was born in Ontario in 1870 and eventually moved to BC and built a small, three-bed hospital – known as Lazier's Hospital – in South Fort George in the early 1910s and but later moved his practice to Burns Lake and then to Francois Lake ca. 1921. Dr. Lazier died in 1931.
Alcance y contenido
This journal by Dr. Lazier consists of his obstetric notes on pregnancies, childbirths, infant deaths, and maternal deaths during his practice from 1901 through 1918 and 1922 through 1930. Some of the locations and regions covered in the journal include: Prince George/Fort George and the surrounding area, Nakusp, Arrowhead, Beaton, Camborne, Princeton, Fraser Lake, Burns Lake, Grayson (Saskatchewan), Neville (Saskatchewan), Ranfurly (Alberta), Minburn (Alberta), etc. A few pages at the back of the journal consists of a child's writing in pencil of a "list of made up words" and a list of "German words."
Área de notas
Ubicación de los originales
Disponibilidad de otros formatos
Condiciones de uso, reproducción, y publicación
Instrumentos de descripción
Identificador/es alternativo(os)
Puntos de acceso
Puntos de acceso por materia
Puntos de acceso por lugar
Puntos de acceso por autoridad
Área de control
Fuentes
Lee, E. (1997). Scalpels & buggywhips: Medical pioneers of central BC. Surrey, B.C: Heritage House.
Digital object (Ejemplar original), área de permisos
Digital object (Referencia), área de permisos
Digital object (Miniatura), área de permisos